Compassionate and Personalized Senior Moving Services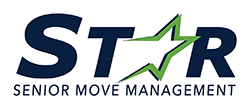 At White Star, we are NASSM certified and we understand that moving can be a difficult and stressful experience, especially for our beloved senior citizens. As individuals age, physical limitations, health concerns, and emotional attachments to their current home require careful consideration and a tailored approach. We specialize in providing comprehensive moving services designed specifically for seniors.
Our menu of moving services for seniors includes:
Full-Service Packing
White Glove Unpacking
Floor Planning
Storage and Donation
Shipping to Family
Estate Sale Services
Cleaning Services
Photo and Decor Hanging
One of the key aspects we address when moving senior citizens is the physical aspect of the process. We recognize that packing and moving heavy furniture and boxes can be challenging for individuals with mobility issues or physical limitations. To ensure a smooth and safe transition, our experienced team offers customized floor plans that determine the best furniture placement in the new home. We can assist in determining how much personal items, such as kitchenware and small appliances, will fit, and help stage your furniture to suit your needs. Our dedicated NASSM certified move manager will be by your side, providing guidance and support throughout the entire sorting, packing, and moving process.
Moreover, we go the extra mile to ease the burden of the move for seniors. Our compassionate crew is trained to unpack and set up your new residence, ensuring you feel at home from arrival. We can also assist with disposing of items you no longer need, whether it's taking them to the trash, a donation center, or delivering them to other family members. We understand that every detaill matters when it comes to a senior move, and we strive to provide the utmost care and attention throughout the entire process.
When assisting a friend or family member with a senior move, we emphasize the importance of involving the senior in the process and being sensitive to their needs and feelings throughout. We understand seniors' emotional attachment to their longtime homes and approach the transition with care, allowing them the time and space to say goodbye at their own pace.
With White Star's NASSM certified senior moving services, you can trust us to handle every aspect of the move with compassion, professionalism, and expertise. We aim to make the transition as smooth as possible for you or your loved one. Contact us today, and let us support you in this important transition.